---
Doubles industry GWP growth and quadruples first-year premium growth
Reflecting the company's prudent approach to business and sustainable strategies in the face of challenges, Janashakthi Insurance PLC recorded a 45 percent growth of gross written premium (GWP) for the financial year ended on December 31, 2021, reaching a total income of Rs.7.2 billion for the period under review.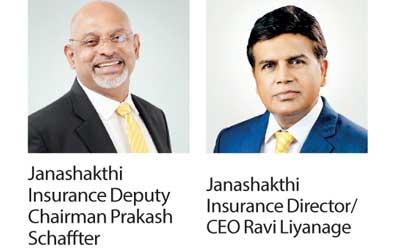 The life insurer posted a profit before tax of Rs.1.2 billion as at the end of the financial year and an investment income of Rs.1.9 billion for the same period. Meanwhile, the net claims and benefits to policyholders during the same period was at Rs.4.7 billion.
"The praiseworthy achievement and viable financial growth that we attained during the financial year 2021, notwithstanding the pandemic-triggered macroeconomic challenges, speak volumes about the ability to navigate the troubled waters using time-sensitive, insight-driven strategies. As such, we have been able to meet the expectations of our stakeholders and grow in a sustainable manner during the year. We will continue to build on this steady platform to pursue growth opportunities in the post-pandemic market as a trusted life insurance provider," said Janashakthi Insurance PLC Deputy Chairman Prakash Schaffter.
"The year 2021 will go down in the history of Janashakthi Life as one in which we not only successfully combated the negative economic implications of a global pandemic but also outperformed the industry in key parameters of the life insurance industry whereby outperforming the industry, double the gross written premium growth with quadrable achievement in first year premium and number of lives covered outperforming the industry over 100 percent. Our early and proactive identification of market and economic conditions, market-sensitive approach to consumer insights and well-thought-out aggressive sales and marketing approach together with prudent financial management paved the way to outperform the industry key value drivers quite convincingly," said Janashakthi Insurance PLC Director/Chief Executive Officer Ravi Liyanage.
Janashakthi Life successfully achieved several great milestones in the year 2021. Some of the key achievements were receiving a record-breaking total income of over Rs.7.2 billion with a growth of 14 percent over the last year (Rs.6.2 billion in 2020) and a commendable GWP growth of 45 percent over the corresponding period under review. For the first time ever in the history of Janashakthi Life, it crossed two consecutive billion milestones while also achieving strong market share growth, which moved up by one market position against competition in new business during the year of 2021.
Janashakthi Life also delivered outstanding performance across all KPIs, surpassing all set targets, with a notable regular premium first year premiums grow over 128 percent. Janashakthi Life also successfully produced over 100 MDRT achievers, aligning themselves in par with global standards. Also, partnership channel was able to doubled its business while new business expansion channel recorded a Rs.181 million in its first year of operation, surpassing the premium of any insurance company in Sri Lanka in its first year of operation.